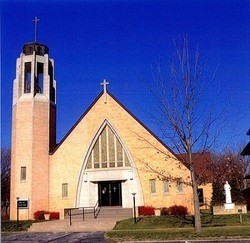 St. Francis of Assisi Catholic Church
(Rockwell City)

Mass Time Saturday at 5:00 pm
The first Catholic celebration of the Eucharist held in Rockwell City
occurred in the upper room of the county courthouse circa 1884. It was presided over by Rev. Patrick Carroll, who had residence in Fonda. Therewere six adult Catholics in attendance. Parish records indicate that W.J. Powers, son of Mr. and Mrs. Patrick Powers, was the first baby baptized in the parish. Joseph Stumpf and his family came to the parish in 1883. He married Anna Heebner. William Carmichael lived just east of town. Frank Heebner arrived in 1890; Patrick McGinty in 1891; Patrik McGrail, 1894 and Frank Powers, 1899. Rev. Denis McCaffrey served the parish from St. Joseph, Lohrville from 1887-1891.
Rev. George Costello oversaw the construction of the first church building for the parish. Families contributed what they could for the new venture - from 25 cents to $100.00. Mike Knapp, father of Walter Knapp, built the church building at the cost of $1,200.00. It was dedicated in 1901. By 1906 there were 18 Catholic families in the Rockwell City area, and the pastor in residence at Sac City oversaw St. Francis of Assisi. During this year, Rev. Henry Muyssen moved to Rockwell City as the first resident pastor. Funds were raised to provide for the first priest's house (rectory). The first wedding in1906 was that of Myrtle McGrail to Andrew Parr; the first baby baptized in the new church building was Caroline Aloysia Blasey, daughter of Mr. and Mrs. William Blasey. The parish purchased the original Calhoun County Courthouse and remodeled it to serve as the Catholic school. The building was purchased for $450.00 and moved to a lot west of the church building - property given to the church by Frank Heebner. The first graduating class from the school included Leona Blasey and Art McGinty. In 1912, the church was incorporated and the cemetery grown was purchased.From 1907 to 1952, the parish was served by 8 pastors: Revs. Bernard Hunt, Christopher Huelshort, Mathias Marx, John Achatz, Joseph Wolf, William Mason Peter Sturn and William Buchholz.
Rev. Edward Fandel assumed the responsibilities for the parochial ministry in 1952. In 1956 he oversaw the construction of the present church building at a cost of $125,350.00. Rev. Edward Carpenter was named pastor in 1964; he undertook the construction of the new school at a cost of $120,00.00. The school was closed in 1968, but the building is used for the parish religious education program and other parish uses.